♥♥ AFRICA
At the end of this study you should have a general understanding of the Contenant of Africa: Including it's geographical layout, the people, the animals and other natural wonders.
You should also be able to identify some of the Church's African Saints and what they did and where they came from
♥ Chapter books to read:
* With Kitchener in the Soudan
* At Aboukir and Acre
* By Sheer Pluck
* A Chapter of Adventures
* With Roberts in preoria
* The March to Coomassie
* With Buller in Natal
* Ther Cat of Bubastes
* The Young Colonists
* The Dash for Khartoum............All the above are by G. A. Henty.* The Royal Diaries: Cleopatra VII...Kristiana Gregory
* The Royal Diaries: Nzingha... Patricia McKissac* God King... Joanne Williamson
* Shadow Hawk... Andre Norton
* Beau Geste... P.C. Wren
♥ Information Books
* KINGFISHER : Land and it's People
* Operation World...Patrick Johnstone and Jason Mandryk-- 2001 edition
* Junior Geography...A.J. Herbertson and O.J.R. Howarth
* Grasslands... Jenny Vaughan
* We live in South Africas...Preben Kristensen & Fiona Cameron
* Deserts...Nicola Barber
* Nigeria... the land and it's people...Richard Synge
* A Family from South Africa...Jen Green
* Africa: An Eyewitness book... Yvonne Ayo
* The life of Meat Eaters... Dr Maurice Burton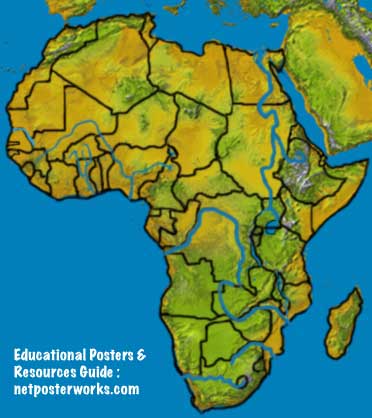 ♥Folk Tales:
- Use the Oak Meadow folk tale book and read through
- this can be read to the little ones as part of your time with them.
- the little ones can draw a narration from each Folk tale and create a book while dictating to an older person the text.
- Listen to the
on-line
Folk Tales
- more
folktales
- and
again
- and the other one I have to find the link for
- Favourite African
Folk tales
♥ National Geographic Pictures of the World Card Game
♥ Movies...
* George of the Jungle
* King Solomans Mines
♥ Make a passport with your information for traveling around the world
- have a map or Africa on the first page after information about yourself and then colour in the countries as you travel to them
- on the next pages record the vital information about each country you 'visit':
* Flag of the Country visited
* Name of Country
* Name the countries that border you country:
* Name the surrounding Oceans/Seas:
* Capital of Country:
* Pinpoint your country's: Latitiude and Longitude
* Major Language Spoken:
* Major Religion:
* What is the Currency?
* Type of Government:
* Chief Crops:
* Major Industries:
* What is this Country most famous/infamous for?
♥ Country Studies:- choose 6-8 countries to 'travel' to including
*
Nigeria
(Father Felix is from here, he may be able to help wiyh information)
- 5 others of your choice
* Use the above information from your passport to help you write about each of your selected countries.
♥ Online Fun
*
Map Game
*
Africa Quiz
*
Africa Capitals Quiz
*
World Quizzes
*
Geography Knowledge
*
African Geography
: There are many themes here to choose from-
- work your way through these as you choose
*
Latitude and Longitude
Game
♥ Mapping:
- Draw a map of Africa:
- the capital cities
- neighbouring oceans and countries.
- rivers and mountains
- anything else meaningful
* Use continent Maps(
We have a felt one
)
♥ Languages to Learn
*
World
Languages :
* More
Languages
Choose the specific African ones
♥
Nationa
l Anthems
*
African
countries
♥ African Wildlife
- choose 6 animals and learn more about them :
- record infornatin in book including pictures and the information below....
- common name
- classification information
- physical characteristics
- habits
- food
- predators
* You may use the resources below or any of the texts we have:
*
African Wildlife Foundation
-
*
African Fauna
* Online African
jigsaw
puzzles
* Printable African book for little ones
* African animals to label for younger ones
* African animal
colouring
pictures for younger ones
* Pre school African
syllable
matching
♥ Animals and their Habitat:
-Create an illustration of an African habitat
-label what aspects of the habitat provides food, water, and shelter for the animals that live there.
♥ Music:
- research the musical instruments
using illustrations and written information
- research African folksongs and spiritual songs
- learn one of the songs you research
♥ African cooking:
- research and prepare and cook an entire African meal
- resources online can be found
♥ Saints of Africa:
- List of
African
Saints
from Archdiocese of Newark
- Another list from
Catholic Online
* Use the above lists to:
- Read about some of the Saints of Africa
- Write a short narration of at least 100 words minimum on 4 Saints of your choice
- make a list of the other Saints you have read about
* Create maping on the Saints:
- Mark various Saints' home country
- Shade in the countries where the primary religion is Christian.
- Shade in the countries where the primary religion is Islam.
- Shade in the countries where
African traditional religions
,
folk religion
or
syncretism
are practised alongside Christianity or Islam.
- Shade in at least five countries that are currently or have recently been in civil unrest.
♥ Research the National Monuments of Africa:
- find at least 3 and narrate and draw 1 page on each of them
eg ;
one
,
two
three
or find others if you wish
♥ Cultural Aspects of Africa:
- Choose one aspect of African Culture this may be; art, dance, history, religion, daily lives that interests you and record that information
- this can be done in illustration or writing or both
- Use
Global Art: Activities, Projects, and Inventions from Around the World
. p 13 -24
- complete 2 or more of these, or use the book as a guide to create your own project
♥♥♥